7

min read
Since its early inception, virtual reality has offered an escape. Donning a headset can transport you to a brand new world, full of wonderment and excitement. Or it can let you explore a location too dangerous for human existence.  Or it can even just present the real world to you in a new manner. And now that we have moved past the era of bulky goggles and clumsy helmets, the hardware is making the aim of unfettered escapism a reality.
In this article, we present a roundup of the modern VR hardware systems. Each product is presented giving an overview of the device, and its price as of February 2018. Use this information to compare systems and find the device which best suits your personal needs.
There has been an explosion of VR hardware in the last three years. They range from cheaply made housings around a pair of lens to full headsets with embedded screens creating a 110-degree field of view. Each device offers distinct advantages and use cases. Many have even dropped significantly in price over the past 12 months making them more accessible to a wider audience of users. Following is a brief overview of each device, ranked in terms of price and complexity.
Google Cardboard
Cardboard VR is compatible with a wide range of contemporary smartphones.
Google Cardboard's biggest advantage is its low cost, broad hardware support, and portability. As a bonus, it is wireless.
Using the phone's gyroscopes, the VR applications can track the user in 360 degrees of rotation.
While modern phones are very powerful, they are not as powerful as desktop PCs. But the user is untethered and the systems are lightweight:
Cost: $5-20 (plus an iOS or Android smartphone)
Google Daydream
Rather than plastic, the Daydream is built from a fabric-like material and is bundled with a Wii-like motion controller with a trackpad and buttons.
It does have superior optics compared to a Cardboard but is not as nice as the higher end VR systems.
Just as with the Gear VR, it works only with a very specific list of phones:
Cost: $79 (plus a Google or Android Smartphone)
Gear VR
Gear VR is part of the Oculus ecosystem. While it still uses a smartphone (Samsung only), the Gear VR Head-Mounted Display (HMD) includes some of the same circuitry from the Oculus Rift PC solution. This results in far more responsive and superior tracking compared to Google Cardboard, although it still only tracks rotation: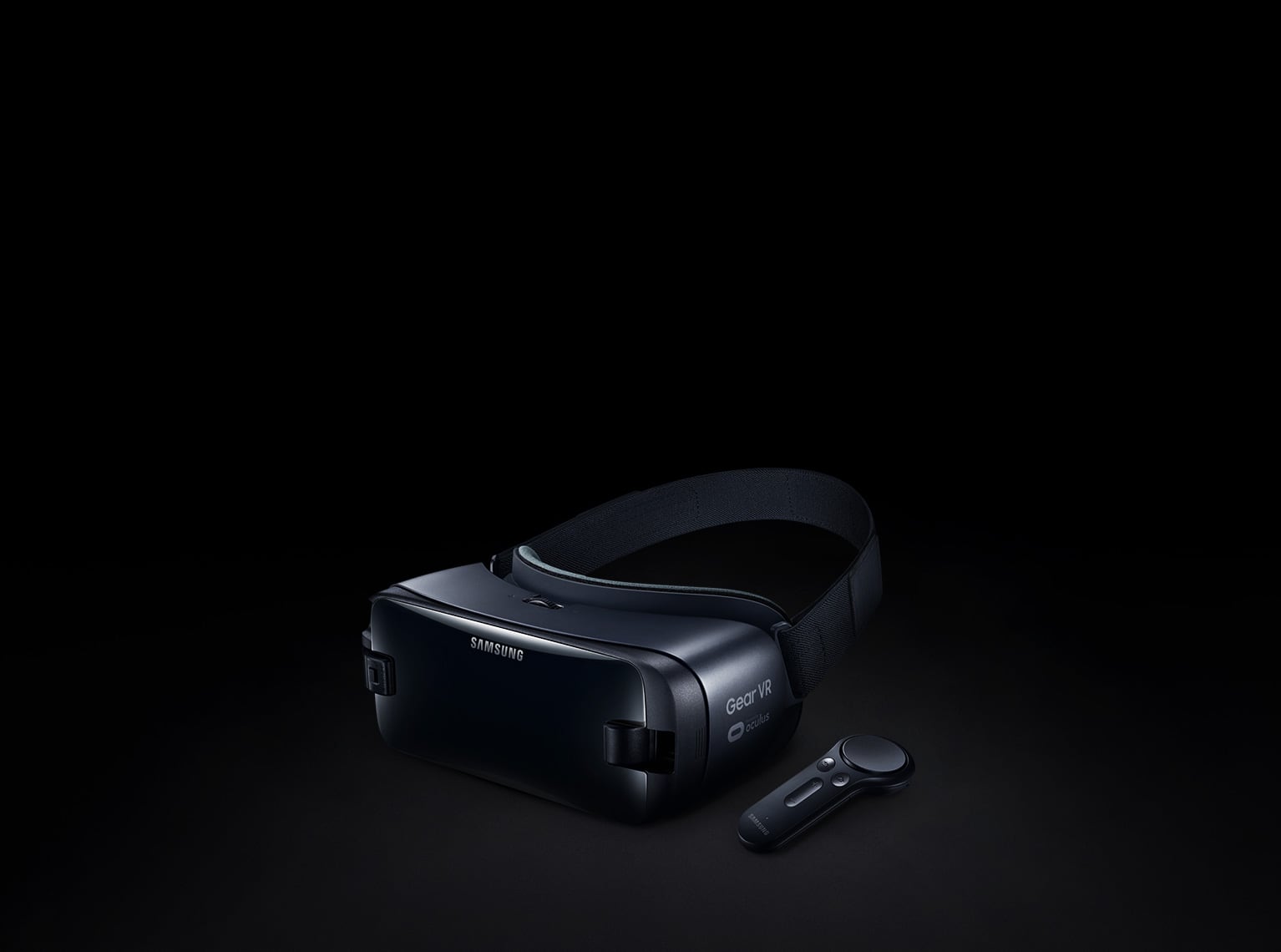 Cost: $99 (plus Samsung Android Smartphone)
Oculus Rift
The Oculus Rift is the platform that reignited the VR renaissance through its successful Kickstarter campaign. The Rift uses a PC and external cameras that allow not only rotational tracking but also positional tracking, allowing the user a full VR experience. The Samsung relationship allows Oculus to use Samsung screens in their HMDs.
While the Oculus no longer demands that the user remain seated, it does want the user to move within a smaller 3 m x 3 m area. The Rift HMD is wired to the PC.
The user can interact with the VR world with the included Xbox gamepad, mouse, and keyboard, a one-button clicker, or proprietary wireless controllers:
Cost: $399 plus $800 for a VR-ready PC
Vive
The HTC Vive from Valve uses smartphone panels from HTC.
The Vive has its own proprietary wireless controllers, of a different design than Oculus (but it can also work with gamepads, joysticks, mouse/keyboards).
The most distinguishing characteristic is that the Vive encourages users to explore and walk within a 4 m x 4 m, or larger, cube:
Cost: $599 plus an $800 VR-ready PC
Sony PSVR
While there are persistent rumors of an Xbox VR HMD, Sony is currently the only video game console with a VR HMD.
It is easier to install and set up than a PC-based VR system, and while the library of titles is much smaller, the quality of the titles is higher overall on average. It is also the most affordable of the positional tracking VR options. But, it is also the only one that cannot be developed on by the average hobbyist developer:
Microsoft's HoloLens
Microsoft's HoloLens provides a unique AR experience in several ways.
The user is not blocked off from the real world; they can still see the world around them (other people, desks, chairs, and so on) through the HMD's semitransparent optics.
The HoloLens scans the user's environment and creates a 3D representation of that space. This allows the Holograms from the HoloLens to interact with objects in the room. Holographic characters can sit on couches in the room, fish can avoid table legs, screens can be placed on walls in the room, and so on.
The system is completely wireless. It's the only commercially available positional tracking device that is wireless. The computer is built into HMD with the processing power that sits in between a smartphone and a VR-ready PC.
The user can walk, untethered, in areas as large as 30 m x 30 m.
While an Xbox controller and a proprietary single-button controller can be used, the main interaction with the HoloLens is through voice commands and two gestures from the user's hand (Select and Go back).
The final difference is that the holograms only appear in a relatively narrow field of view.
Because the user can still see other people, either sharing the same Holographic projections or not, the users can interact with each other in a more natural manner:
Cost: Development Edition: $3000; Commercial Suite: $5000
Headset costs and comparison across various features
The following chart is a sampling of VR headset prices, accurate as of February 1, 2018. VR/AR hardware is rapidly advancing and prices and specs are going to change annually, sometimes quarterly. As of now, the price of the Oculus has dropped by $200:
Google

Cardboard

Gear VR
Google

Daydream

Oculus

Rift

HTC

Vive

Sony

PS VR

HoloLens
Complete cost for HMD, trackers, default controllers
$5
$99
$79
$399
$599
$299
$3000
Total cost

with CPU: phone, PC, PS4

$200
$650
$650
$1,400
$1,500
$600
$3000
Built-in headphones
NO
No
No
Yes
No
No
Yes
Platform
Apple

Android

Samsung

Galaxy

Google

Pixel

PC
PC
Sony PS4
Proprietary PC
Enhanced rotational tracking
No
Yes
No
Yes
Yes
Yes
yes
Positional

tracking

No
No
No
Yes
Yes
Yes
Yes
Built-in touch panel
No*
Yes
No
No
No
No
no
Motion controls
No
No
No
Yes
Yes
Yes
Yes
Tracking system
No
No
No
Optical
Lighthouse
Optical
Laser
True 360 tracking
No
No
No
Yes
Yes
No
Yes
Room scale

and size

No
No
No
Yes
Yes
Yes
Yes
Remote
No
No
Yes
Yes
No
No
Yes
Gamepad support
No
Yes
No
Yes

2m x 2m

Yes

4m x 4m

Yes

3m x 3m

Yes

10mX10m

Resolution

per eye

Varies
1440

x1280

1440

x1280

1200

x1080

1200

x1080

1080

x960

1268

X720

Field of

view

Varies
100
90
110
110
100
30
Refresh rate
60 Hz
60 Hz
60 Hz
90 Hz
90 Hz
90-120 Hz
60 Hz
Wireless
Yes
Yes
Yes
No
No
No
Yes
Optics adjustment
No
Focus
No
IPD
IPD
IPD
IPD
Operating system
iOS

Android

Android

Oculus

Android

Daydream

Win 10

Oculus

Win 10

Steam

Sony PS4
Win 10
Built-in Camera
Yes
Yes
Yes*
No
Yes*
No
Yes
AR/VR
VR*
VR*
VR
VR
VR*
VR
AR
Natural user Interface
No
No
No
No
No
Yes
Choosing which HMD to support comes down to a wide range of issues: cost, access to hardware, use cases, image fidelity/processing power, and more. The previous chart is provided to help the user understand the strengths and weaknesses of each platform.
There are many HMDs not included in this overview. Some are not commercially available at the time of this writing (Magic Leap, the Win 10 HMD licensed from Microsoft, the Starbreeze/IMAX HMD, and others) and some are not yet widely available or differentiated enough: Razer's Open Source HMD.
You enjoyed an excerpt from the book, Virtual Reality Blueprints, written by Charles Palmer and John Williamson. In this book, you will learn how to create immersive 3D games and applications with Cardboard VR, Gear VR, OculusVR, and HTC Vive.
Read Next
The hype behind Magic Leap's New Augmented Reality Headsets
Create Your First Augmented Reality Experience Using the Programming Language You Already Know