7

min read

By AI Trends Staff
The ability to add automation to an existing marine vessel to make it autonomous is here today and is being proven by a Boston company.
Sea Machines builds autonomous vessel software and systems for the marine industry. Founded in 2015, the company recently raised $15 million in a Series B round, making it total raised $27.5 million since 2017. 
Founder and CEO Michael G. Johnson, a licensed marine engineer, recently took the time to answer via email some questions AI Trends poses to selected startups.
Describe your team, the key people
Sea Machines is led by a team of mariners, engineers, coders and autonomy scientists. The company today has a crew of 30 people based in Boston; Hamburg, Germany; and Esbjerg, Denmark. Sea Machines is also hiring for a variety of positions, which can be viewed at sea-machines.com/careers.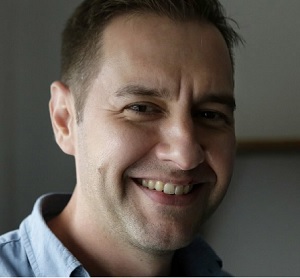 What business problem are you trying to solve?
The global maritime industry is responsible for billions in economic output and is a major driver of jobs and commerce. Despite the sector's success and endurance, it faces significant challenges that can negatively impact operator safety, performance and profitability. Sea Machines is solving many of these challenges by developing technologies that are helping the marine industry transition into a new era of task-driven, computer-guided vessel operations.  
How does your solution address the problem?
Autonomous systems solve for these challenges in several ways:
Autonomous grid and waypoint following capabilities relieve mariners from manually executing planned routes. Today's autonomous systems uniquely execute with human-like behavior, intelligently factoring in environmental and sea conditions (including wave height, pitch, heave and roll); change speeds between waypoints; and actively detect obstacles for collision avoidance purposes.

Autonomous marine systems also enable optionally manned or autonomous-assist (reduced crew) modes that can reduce mission delays and maximize effort. This is an important feature for anyone performing time-sensitive operations, such as on-water search-and-rescues or other urgent missions.

Autonomous marine systems offer obstacle detection and collision avoidance capabilities that keep people and assets safe and out of harm's way. These advanced technologies are much more reliable and accurate than the human eye, especially in times of low light or in poor sea conditions.

Because today's systems enable remote-helm control and remote payload management, there is a reduced need for mariners (such as marine fire or spill response crews) to physically man a vessel in a dangerous environment. A remote-helm control beltpack also improves visibility by enabling mariners to step outside of the wheelhouse to whatever location provides the best vantage point when performing tight maneuvers, dockings and other precision operations.

Autonomous marine systems enable situational awareness with multiple cameras and sensors streaming live over a 4G connection. This real-time data allows shoreside or at-sea operators a full view of an autonomous vessel's environment, threats and opportunities.

Minimally manned vessels can autonomously collaborate to cover more ground with less resources required, creating a force-multiplier effect. A single shoreside operator can command multiple autonomous boats with full situational awareness.
These areas of value overlap for all sectors but for the government and military sector, new on-water capabilities and unmanned vessels are a leading driver. By contrast, the commercial sector is looking for increased productivity, efficiency, and predictable operations. Our systems meet all of these needs. Our technology is designed to be installed on new vessels as well as existing vessels. Sea Machines' ability to upgrade existing fleets greatly reduces the time and cost to leverage the value of our autonomous systems. 
How are you getting to the market? Is there competition?
Sea Machines has an established dealer program to support the company's global sales across key commercial marine markets. The program includes many strategic partners who are enabled to sell, install and service the company's line of intelligent command and control systems for workboats. To date, Sea Machines dealers are located across the US and Canada, in Europe, in Singapore and UAE. We have competition for autonomous marine systems, but our products are the only ones that are retrofit ready, not requiring new vessels to be built.
Do you have any users or customers?  
Yes we have achieved significant sales traction since launching our SM series of products in 2018.  Just since the summer, Sea Machines has been awarded several significant contracts and partnerships: 
The first allowed us to begin serving the survey vessel market with the first announced collaboration with DEEP BV in the Netherlands. DEEP's vessel outfitted with the SM300 entered survey service very recently. 

Next, we partnered with Castine-based Maine Maritime Academy (MMA) and representatives of the U.S. Maritime Administration (MARAD)'s Maritime Environmental and Technical Assistance (META) Program to bring valuable, hands-on education about autonomous marine systems into the MMA curriculum. 

Then we recently announced a partnership with shipbuilder Metal Shark Boats, of Jeanerette, Louisiana, to supply the U.S. Coast Guard (USCG)'s Research and Development Center (RDC) with a new Sharktech 29 Defiant vessel for the purposes of testing and evaluating the capabilities of available autonomous vessel technology. USCG demonstrations are happening now (through November 5) off the coast of Hawaii. 

Finally, just this month, we announced that the U.S. Department of Defense (DOD)'s Defense Innovation Unit (DIU) awarded us with a multi-year Other Transaction (OT) agreement. The primary purpose of the agreement is to initiate a prototype that will enable commercial ocean-service barges as autonomous Forward Arming and Refueling Point (FARP) units for an Amphibious Maritime Projection Platform (AMPP). Specifically, Sea Machines will engineer, build and demonstrate ready-to-deploy system kits that enable autonomous, self-propelled operation of opportunistically available barges to land and replenish military aircraft.
In the second half of 2020 we are also commencing onboard collaborations with some crew-transfer vessel (CTV) operators serving the wind farm industry.
How is the company funded?
The company recently completed a successful Series B round, which provided $15M in funds, with a total amount raised of $27.5M since 2017. The most recent funds we were able to raise are going to significantly impact Sea Machines, and therefore the maritime and marine industries as a whole. The funds will be put to use to further strengthen our technical development team as well as build out our next level of systems manufacturing and scale our operations group to support customer deployments.  We will also be investing in some supporting technologies to speed our course to full dock-to-dock, over-the-horizon autonomy. The purpose of our technology is to optimize vessel operations with increased performance, productivity, predictability and ultimately safety.
In closing, we'd like to add that the marine industries are a critically significant component of the global economy and it's up to us to keep it strong and relevant. Along with people, processes and capital, pressing the bounds of technology is a key driver. The world is being revolutionized by intelligent and autonomous self-piloting technology and today we find ourselves just beyond the starting line of a busy road to broad adoption through all marine sectors. If Sea Machines continues to chart the course with forward-looking pertinence, then you will see us rise up to become one of the most significant companies and brands serving the industry in the 21st century.  
Any anecdotes/stories?
This month we released software version 1.7 on our SM300. That's seven significant updates in just over 18 months, each one providing increased technical hardening and new features for specific workboat sectors. 
Another interesting story is about our Series B funding, which, due to the pandemic, we raised virtually.  Because of where we are as a company, we have been proving our ability to retool the marine industry with our technology, and therefore we are delivering confidence to investors. We were forced to conduct the entire process by video conference, which may have increased overall efficiency of the raise as these rounds traditionally require thousands if not tens of thousands of miles of travel for face-to-face meetings, diligence, and handshakes. Remote pitches also proved to be an advantage because it allowed us to showcase our technology in a more direct way. We did online demos where we had our team remotely connected to our vessels off Boston Harbor. We were able to get the investors into the captain's chair, as if they were remotely commanding a vessel in real-world operations.
Finally, in January, we announced the receipt of ABS and USCG approval for our SM200 wireless helm and control systems on a major class of U.S.-flag articulated tug-barges (ATBs), the first unit has been installed and is in operation, and we look forward to announcing details around it.  We will be taking the SM200 forward into the type-approval process.
Learn more at Sea Machines.