4

min read
Traffic from both humans and bots are at record highs. Since March 2020, reCAPTCHA has seen a 40% increase in usage – businesses and services that previously saw most of their users in person have shifted to online-first or online-only. This increased demand for online services and transactions can expose businesses to various forms of online fraud and abuse, and without dedicated teams familiar with these attacks and how to stop them, we've seen hundreds of thousands of new websites come to reCAPTCHA for visibility and protection.
During COVID-19, reCAPTCHA is playing a critical role helping global public sector agencies to distribute masks and other supplies, provide up-to-date information to constituents, and secure user accounts from distributed attacks. The majority of these agencies are using the score-based detection that comes from reCAPTCHA v3 or reCAPTCHA Enterprise instead of showing the visual or audio challenges found in reCAPTCHA v2. This reduces friction for users and also gives teams flexibility on how to take action on bot requests and fraudulent activity.
reCAPTCHA Enterprise can also help protect your business. Whether you're moving operations online for the first time or have your own team of security engineers, reCAPTCHA can help you detect new web attacks, understand the threats, and take action to keep your users safe. Many enterprises lack visibility in parts of their site, and adding reCAPTCHA helps to expose costly attacks before they happen. The console shows the risk associated with each action to help your business stay ahead.
Unlike many other abuse and fraud fighting platforms, reCAPTCHA doesn't rely on invasive fingerprinting. These techniques can often penalize privacy-conscious users who try to keep themselves safe with tools such as private networks, and are in conflict with browsers' pushes for privacy-by-default. Instead, we've shifted our focus to in-session behavioral risk analysis, detecting fraudulent behavior rather than caring about who or what is behind the network connection. We've found this to be extremely effective in detecting attacks in a world where adversaries have control of millions of IP addresses and compromised devices, and regularly pay real humans to manually bypass detections.
Since we released reCAPTCHA Enterprise last year, we've been able to work closer with existing and new customers, collaborating on abuse problems and determining best practices in specific use cases, such as account takeovers, carding, and scraping. The more granular score distribution that comes with reCAPTCHA Enterprise gives customers more fine-tuned control over when and how to take action. reCAPTCHA Enterprise learns how to score requests specific to the use case, but the score is also best used in a context-specific way. Our most successful customers use features to delay feedback to adversaries, such as limiting capabilities of suspicious accounts, requiring additional verification for sensitive purchases, and manually moderating content likely generated by a bot. 
We also recently released a report by ESG where they evaluated the effectiveness of reCAPTCHA Enterprise as deployed in a real-world hyperscale website to protect against automated credential stuffing and account takeover attacks. ESG noted: "Approximately two months after reCAPTCHA Enterprise deployment, login attempts dropped by approximately 90% while the registered user base grew organically."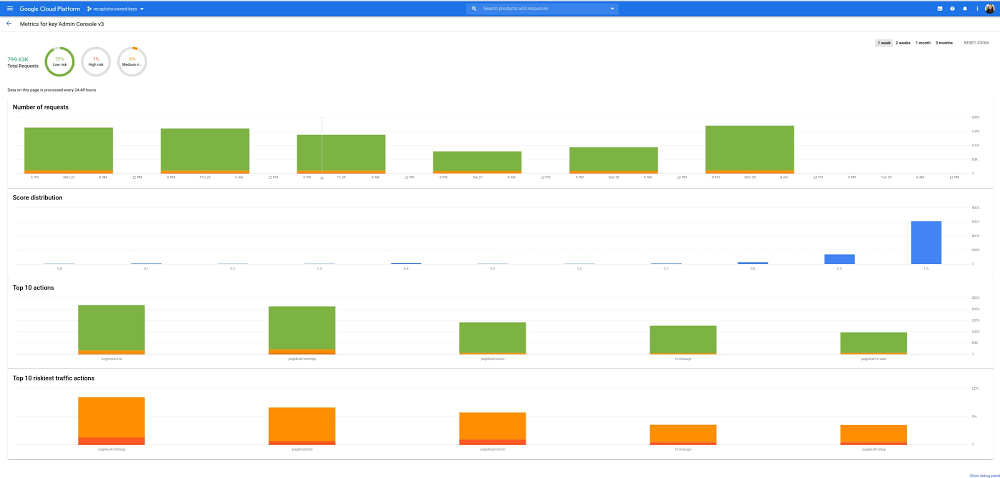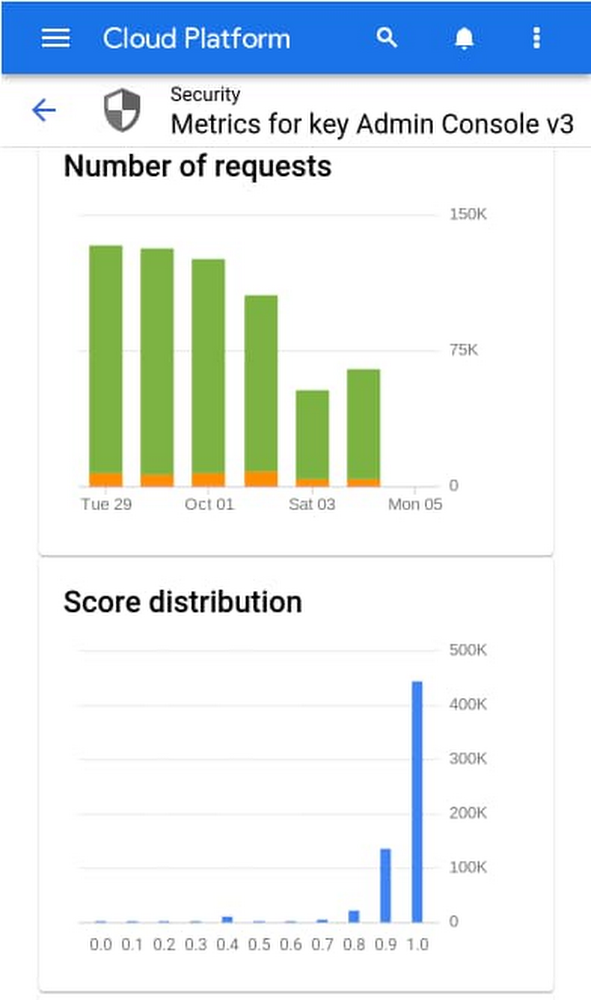 We're continually developing new types of signals to detect abuse at scale. Across the four million sites with reCAPTCHA protections enabled, we defend everything from accounts, to e-commerce transactions, to food distribution after disasters, to voting for your favorite celebrity. Now more than ever, we're proud to be protecting our customers and their users.
To see reCAPTCHA Enterprise in action, check out our latest video.