4

min read
Kristin Adderson
December 9, 2020 – 7:54pm
December 9, 2020
When Tableau joined the Salesforce family, we were excited to accelerate and extend our mission to help people see and understand data. That's what building a Data Culture is all about! We started that work last year by bringing the Tableau Data Fam to Dreamforce. We got to know the vibrant Trailblazer community and introduced people to the innovative analytics platform that helps us deliver on the promise of our mission—through demos, mini-sessions, and a rockstar keynote. 
Y
Tableau Data Fam joins the 2019 Dreamforce
While we can't get together in person this year, we're making the most of the annual conference and transforming Dreamforce into a virtual format called Dreamforce To You. We kicked off the event with a keynote on December 2, and now we want to invite you to join us for a special four-day event: DreamTX. Open to all Trailblazers, including the Tableau Data Fam, DreamTX takes place December 14-17, and is free for anyone to join. We'll be bringing together people from all around the world to learn, connect, and share—directly from our homes.
If you're new to Salesforce, you might be wondering what DreamTX is all about and whether you should take part. So, here's our guide to help you get the most from DreamTX.
What is DreamTX?

DreamTX—Dreamforce Trailblazer Experience—is a four-day virtual event jam-packed with demos, luminary sessions, customer success stories, and conversations with leadership with times friendly for Americas, Asia Pacific and Europe. With something for every line of business and every industry, you'll have tons of opportunities to learn from customers and peers who have built resilience through 2020—all right from your couch. You'll learn how the Customer 360 transforms businesses, hear amazing stories of leadership during a pandemic, hang out and connect with other Trailblazers, and even welcome some surprise guests for entertainment. Best of all, it's free to everyone, making it the most inclusive Dreamforce ever.
What will I learn?

You can be sure that Tableau is rolling into DreamTX energized and ready to share how critical a Data Culture is to empower everyone. We'll feature several sessions all about analytics, integration, and digital transformation, as well as a vision and roadmap session for the Tableau platform and Tableau CRM (formerly Einstein Analytics). Be sure to bookmark the "Unleash the Power of Data: Mulesoft and Tableau" session to learn how business and IT leaders can unlock data from disconnected applications to get actionable insights in one place—in Tableau of course! And check out "AI Predictions with Einstein Discovery" to learn about our newest AI integration. This session will teach you how to build and deploy trusted ML-powered predictions in Tableau with no code required, enabling more teams to benefit from the power of AI. 
Ready to register and start planning your schedule?
How do I get ready for DreamTX?

Whether it's your first Salesforce event or you're a seasoned veteran, follow these tips to make the most of your DreamTX experience.
1. Register at Dreamforce.com
Head over to Dreamforce.com and reserve your spot by clicking the "Sign Me Up" button in the top right corner. 
If you've already created your Trailblazer Profile (say, from Dreamforce 2019), you can log in right away with your existing information. Otherwise, sign up in just a few steps to get in on all the learning and networking benefits that DreamTX and the Trailblazer Community provide!
2. Build your schedule
Each DreamTX session will be 20–25 minutes long, spanning different themed channels. You can use Trail Maps as guides to which sessions are most relevant to you—for example, select "Analytics" from the drop-down menu to see the recommended sessions for our data rockstars. Then simply click on a session title and select "Bookmark" to save it to your personal DreamTX agenda, or "Add to Calendar" to save to your personal calendar.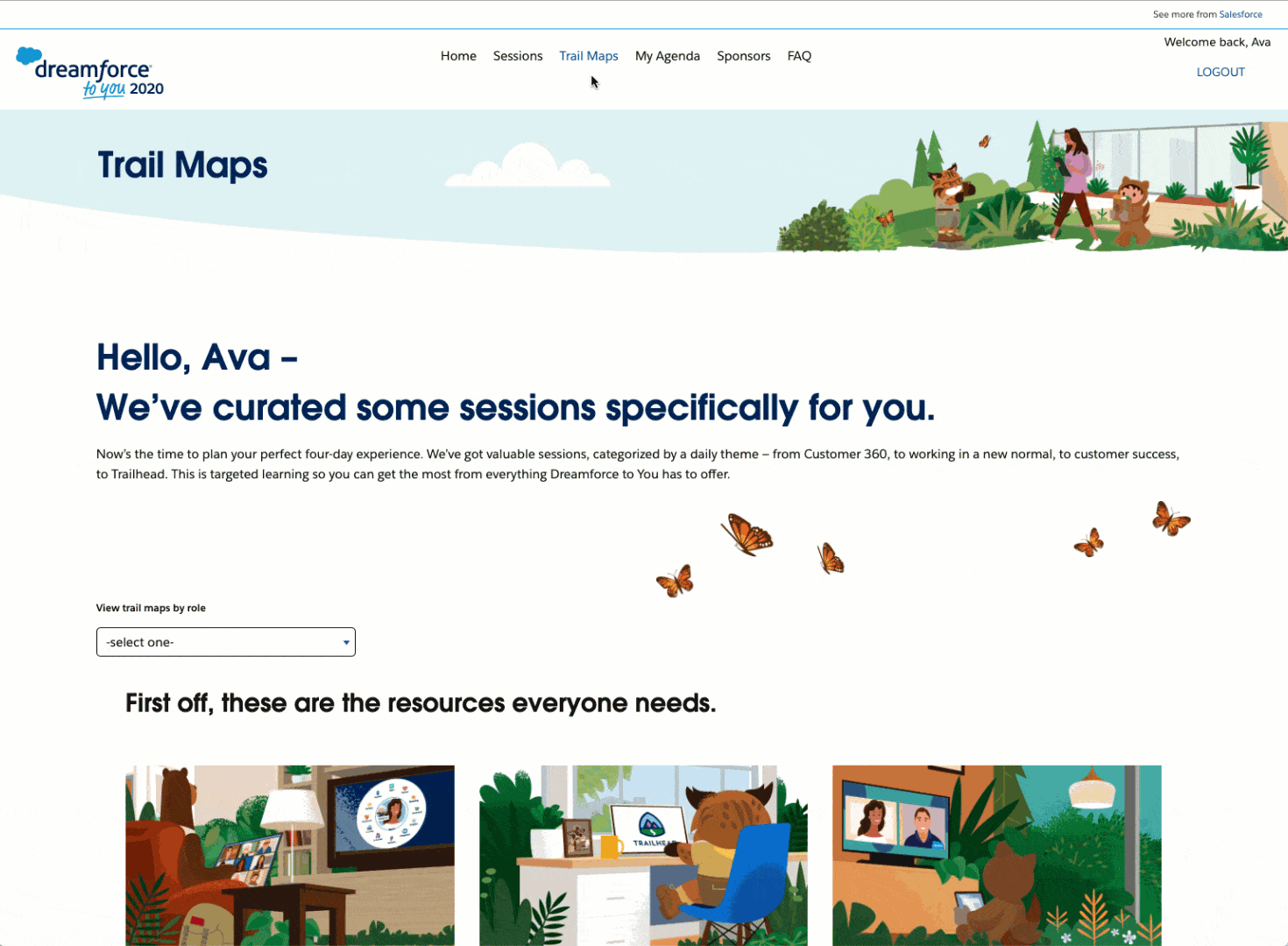 You can also view all sessions available and add sessions to your calendar using the Agenda Builder. (There's a short video featured on that webpage to explain how.) 
And don't forget to check out the demos and workshops available on day four of Dream TX! They're great learning opportunities on topics like the Tableau Viz Lightning Web Component, building advanced reports, and the Tableau CRM developer experience.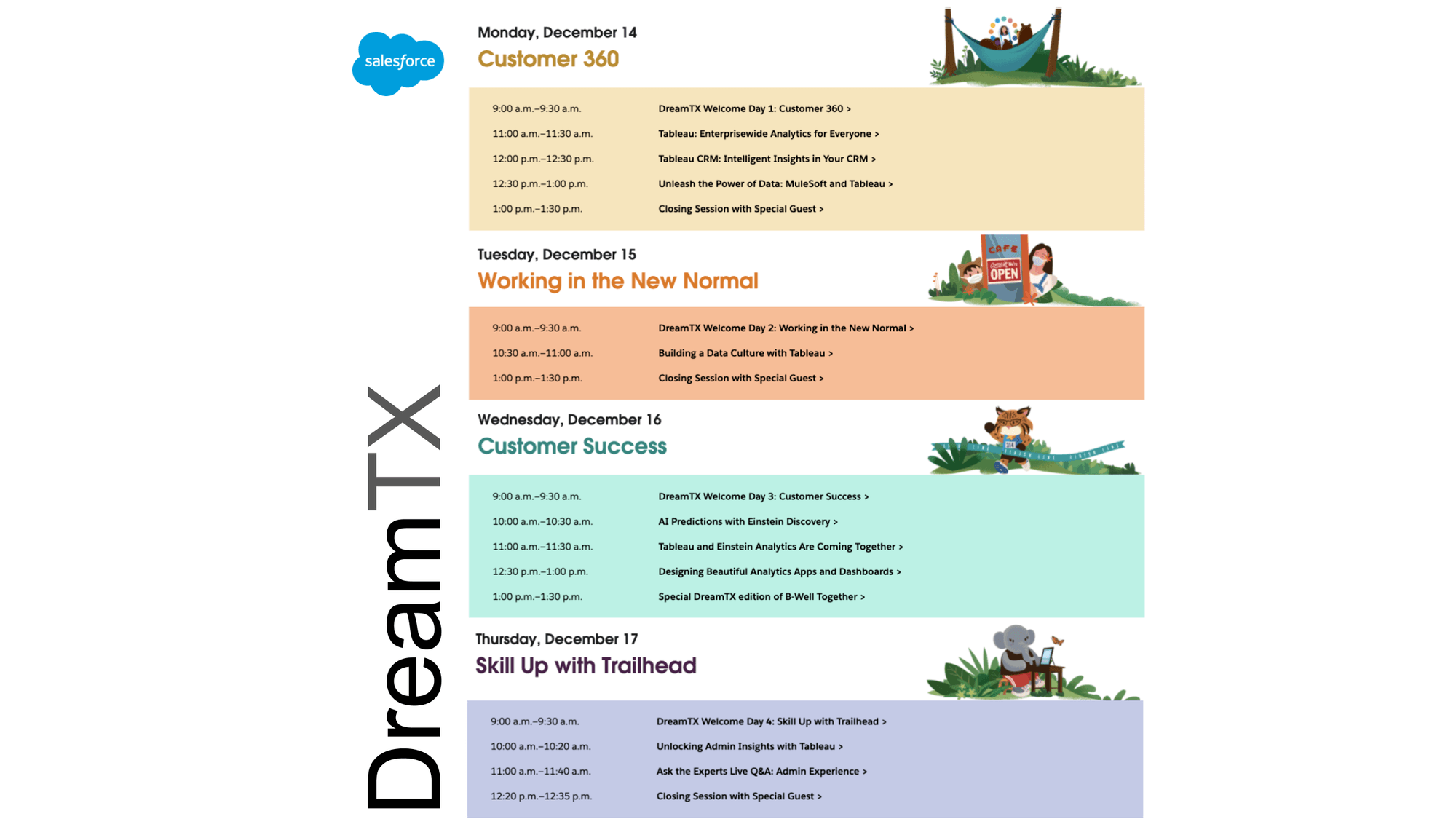 3. Enjoy DreamTX!
When it's time, throw on your most comfortable clothes, grab a snack, and head over to your favorite spot on the couch to get watching. That's the beauty of DreamTX being virtual—everyone's invited to participate and learn! We look forward to seeing our Data Fam there. Get started by registering now, and joining in the conversation on social at #DreamTX.